From the corner of the couch
Looking for a picture book? Here are some great recommendations!
(Please scroll down for more picture book reviews.)
The Smile
Author:                        Marie Voigt   
Publisher:                    Oxford University Press
Year published: 2022
I would recommend this for that moment when we all just need a reminder to be kind to ourselves and others.
The Story:
A child's smile spreads happiness from one person to another until the effects are felt all around the world.
This is a story about caring, sharing, helping one another and the benefits small acts of kindness can bring to us all. 
I love that within this book, there is the story of a letter being written, the journey to its final destination and the joy that it delivers. Let's all write more letters!
So, I would encourage you to share the smiles this story brings and as the author asks, 'where will your smile go?'
If you enjoy this story, you might like: A Little Bit Worried by Ciara Gavin and Tim Warnes.
The Colourful Moo
Author: Pauline Mackay
Illustrator: Marjory Tait
Publisher: Ablekids Press
Year published: 2022
I would recommend this for a dreich day when we need a wee bit of cheering up. A super story to leave you smiling!
The Story:
Sue, the heilan coo, never moos. Through all seasons and all weathers, Sue doesn't utter a sound. Her fellow farmyard animals from Oak Tree Farm are a noisy bunch but not Sue. Not even the arrival of alpacas, straight from Peru, elicit a sound from our new favourite coo. Then one day, a rainbow sprinkles its magic over her and out of her mouth comes a beautiful, rainbow coloured moo.
Told in rhyme, this pacy story has fabulous descriptions. Sue is described as a 'hairy fairy' at one point and there is a real 'hullabaloo' when the animals weather the whole 'ballyhoo' of a storm.
Illustration
The bright colours used by illustrator Marjory Tait perfectly match the gentle and humorous nature of this story. I really like the way there is space left for the reader to use their imagination and be able to interact with the text – who does that tail belong to, which animal makes which noise?
If you enjoy this story, you might like:
'Ham' by Dhana Fox & Anna Demchenko
Charlie Chooses
Author: Lou Peacock
Illustrator: Nicola Slater
Publisher: Nosy Crow
Year published: 2021
I would recommend this for
an indecisive day!
The Story:
Charlie finds it too difficult to choose. Does he wear spotty pants or stripy ones? Should he sleep with the light on or off? As for choosing a birthday present, well that's far too difficult. At last Charlie decides on a dog but then there is a problem. Which dog? It's all too much for him so he leaves the dog rescue centre. He's not alone though, a 'waggy and shaggy' dog follows him home. He's chosen Charlie! Now Charlie's not alone in his choices and feels much more capable of making a decision.
I love the word choices in this story. 'Fluffy dogs and scruffy dogs.' 'Leapy dogs and sleepy dogs.' It's a great tale of friendship and reassurance.
Illustration
Nicola Slater has incorporated a lot of humour into her illustrations. The style is deceptively simple but there is so much to discover on each page.
If you enjoy this story, you might like:
The Boy who Loved Everyone by Jane Porter & Maisie Paradise Shearring
I Don't Like Books. Never. Ever. The End.
Author: Emma Perry
Illustrator: Sharon Davey
Publisher: David Fickling Books
Year published: 2021
I would recommend this for:
a fun way to remember there's a story out there for everyone, join in the adventures!
The Story:
Mabel uses books to stand on, slide on, make hats from: anything but read. She does not want to read them – ever! One night the books decide to show her exactly what they are made of. Teasingly they show Mabel their stories of detectives, spaceships, castles, dragons and knights but they never show her how the adventures end. This is when Mabel discovers for herself the joy of books and immersing herself in their storyworlds.
This story is a fantastic advert for reading books! It certainly made me want to go and read more!
Illustrations
Sharon Davey's clean, clear, deceptively simple illustrations are a joy. I love Mabel's expressions throughout!
If you enjoy this story, you might like:
'We're in the Wrong Book!' by Richard Byrne.
Thanks to Aberdeen City Library for the loan of this book.
Busy Spring – Nature Wakes Up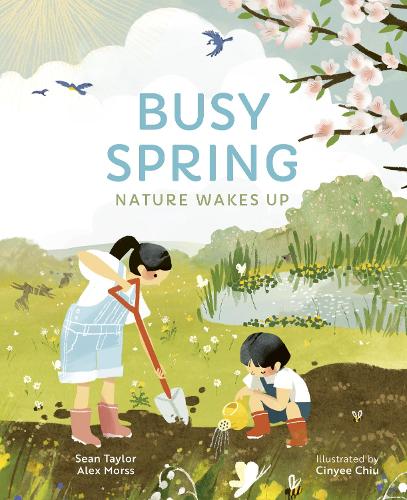 Authors: Sean Taylor and Alex Morss
Illustrator: Cinyee Chiu
Publisher: Quarto Publishing
Year published: 2021
I would recommend this for:
those in need of a story full of wonder who have their feet planted firmly in the ground.
The Story
This is a gentle story of spring awakenings told from the viewpoint of a child and her little sister, Jasmine. Dad puts on his jumper with the hole in it: it must be time for gardening. Exploring the garden as they search for Dad's fork, the family discover bees buzzing, tadpoles, caterpillars, birds making nests, fox cubs sleeping and hibernating hedgehogs.
Each time, Dad explains to the children what is happening in this 'busy spring'. Insects are hailed as 'nature's recyclers'.
There is a quiet exuberance of joy in the sounds, smells and sights of nature. Throughout there is the opportunity to roll, fly, chase and laugh in the garden.
Finally it is time for the family to join nature and get 'busy'. It's time to plant carrots.
A wealth of information can be found at the back of the book. There are facts about plants, trees, animals and a lovely final page with suggestions for garden projects to help wildlife.
This is a book to return to again and again over the years. It is one that will be there on many different levels, and super as a reference text, as the reader grows. This is a book that would be a worthwhile investment.
Illustration
Cinyee Chiu has matched this inspiring story with bright, colourful illustrations capturing the joy and happiness the children find in the garden. Nature is portrayed in beautiful detail and these are pages a child would love to pore over and examine. There is so much that offers up great opportunities for questions and discussions.
If you enjoy this story, you might like:
Jody's Beans by Malachy Doyle
Thank you to Quarto Publishing and NetGalley for providing a copy of this book for review.
King of the Swamp
Author: Catherine Emmett
Illustrator: Ben Mantle
Publisher: Simon and Schuster
Year published: 2020
I would recommend this for:
A day when you need to fan a little flame of hope.
The Story
McDarkly lives in a stinky, smelly swamp but he dreams of transforming it into a place of beauty. When the king arrives and wants to turn it into a skateboard park, McDarkly is worried he'll lose his home. Luckily the king's daughter is keen to see the orchids McDarkly is growing. The king gives him ten days to transform the swamp and McDarkly works hard planting flowers everywhere. Just when he thinks he might save his swamp he spots something unusual. It's a little green caterpillar, not just one but hundreds, and they're eating his flowers! He thinks all is lost but the princess is amazed. All the caterpillars have turned into beautiful butterflies. The princess declares it as a nature reserve, McDarkly has saved his swamp and even the King mucks into help.
Told in a cheery, upbeat rhythm and rhyme, this is a book full of light and hope. We are shown the power of hard work and that beauty is not always where you might expect it to be. This is a wonderful story of nature at its best.
Illustration
Well, his home may be a stinky swamp, but that didn't stop me loving the monster McDarkly and instantly feeling on his side. Ben Mantle's humourous illustrations and gentle palette are a delight.
If you enjoy this story, you might like:
'The One-Stop Story Shop' by Tracey Corderoy and Tony Neal
My School Unicorn
Author: Willow Evans
Illustrator: Tom Knight
Publisher: Hachette
Year published: 2020
I would recommend this for:
A day when it can be a little tricky to try something new, this book will be just what's required to provide some reassurance.
The Story:
School uniform or school unicorn? Evie finds both at Madame Lexi's Uniform Emporium and it might just help calm her worries about starting school. Bobby, the teeny tiny unicorn, lives in Evie's pocket. He's wonderful at providing comfort and reassurance as Evie begins school until the day comes when she feels strong enough to hand him back to Madame Lexi for someone else to use.
Illustration
Tom Knight captures the emotions and spirit of this book perfectly with bright, colourful, heartwarming pictures bringing to life the sparkling magic of Bobby.
If you enjoy this story, you might like:
'Chu's First Day' by Neil Gaiman and Adam Rex
Ching Shih The Girl Who Ruled The Sea
Author: J. L. Bleakley
Illustrator: Shane Crampton
Publisher: Laoch Publishing
Year published: 2020
I would recommend this for:
A day full of mischief!
The Story:
This is a rollicking good story told in a lovely sing song rhythm. I felt like I was reading a sea shanty.
It is based on the true story of Ching Shih whose greatest desire was to become a pirate when everyone else told her it wasn't possible for a girl.
She later became one of the most famous pirates of all time with a fleet of 1,800 pirate ships. Eventually negotiating a deal with the Emperor that allowed her to live freely and keep all her power and treasure.
A great introduction to reading biographies.
Illustration
Shane Crampton's illustrations are as bright, humourous and full of fun as the text.
If you enjoy this story, you might like:
'The Life and Dance of Anna Pavlova' by Laurel Snyder and Julie Morstad.
'The Darkest Dark' by Astronaut Chris Hadfield and The Fan Brothers.
'The Singing Mermaid' by Julia Donaldson and Lydia Monks.
An Engineer Like Me
Author: Dr Shini Somara
Illustrator: Nadja Sarell
Publisher: Wren & Rook Imprint of Hachette Children's Group
Year published: 2020
This book is for all the children of the world who ask such interesting questions. I would say it's great value for money! Not only can you read the story of Zara and Grans' day but there are also diagrams of many everyday machines and fact files of famous engineers such as Hedy Lemarr and Fazlur Rahman Khan. This is a reference, story and an activity book all rolled into one.
I would recommend this for:
A morning or afternoon when you have nothing planned. This book will open up a world of possibilities for all sorts of interesting activities.
The Story:
Watching a plane flying in the sky makes Zara think of lots of questions. For example, how do paper planes fly? The first one she makes doesn't fly very well, but the one Gran makes is amazing.
As they spend the day together out and about Gran answers Zara's many other questions: how does a lift work, an escalator, a crane and so on? Finally they visit the airport and Zara learns something very important – her inspirational Gran is an engineer who designs planes. Will Zara be an engineer one day too?
Illustration
Alongside Nadja Sarell's bright and cheerful illustrations of Zara's story, she has cleverly shown the inner workings of each of the engineering marvels Gran is explaining about. There is so much to look at on every page. The information is laid out in such a clear, accessible way it made me want to go back and delve into the book again and again.
The expressions of interest, joy and enthusiasm on Zara's face throughout are a delight and in addition to the important story of engineering you can feel the warmth of the relationship between Zara and her Gran.
If you enjoy this story, you might like:
Rosie Revere, Engineer by Andrea Beaty and David Roberts
My Nana's Garden
Author: Dawn Casey
Illustrator: Jessica Courtney-Tickle
Publisher: Templar Books
Year published: 2020
This is a tender story of a caring family passing on their love of nature through the generations.
I would recommend this for:
When you're thinking of buying a packet of seeds or perhaps a little tomato plant for your windowsill. I hope you do and enjoy sharing the experience and the joy.
The Story:
The narrator is a young girl who is going to stay with her Nana but she's not too sure about it at first. Exploring Nana's wild garden provides fun throughout the seasons from picking apples, to spotting wildlife or enjoying a campfire in the starlight. We begin to see the narrator's delight at coming to visit Nana in her garden and helping more and more. After all, Nana's garden is 'Blooming with life'.
Time passes until Nana is no longer in her garden but it is not neglected. Our narrator is growing up, tending to the planting, weeding and harvesting. Nana will always remembered as new life is introduced.
The title is the refrain that starts each page and we are carried along with the rhythm and rhyme. This story is an absolute joy to read aloud.
Illustration
From the very front cover, with it's beautiful rendering of the seasons, I felt like I was entering into the narrator's world.
The endpapers are a delight, in gentle greens and whites, with so many interesting plants and animals depicted for the reader to spot.
Jessica Courtney-Tickle's illustrations are perfectly matched with this gentle story with soft colours but also bursting with life, reflecting the garden. In each one there is so much to discover and discuss.
A perfect example is when Nana is gone, there is no need for words: the soft, silent emptiness of a snowy garden say it all. Even in the depths of winter however we find hope at the sight of a robin and foxes curled in their nest.
If you enjoy this story, you might like:
'Jody's Beans' by Malachy Doyle
'Finding Granny' by Kate Simpson & Gwynneth Jones
I was inspired by the Storystorm blogpost by Amanda Davis to use two words from this book to create a haiku. So, using 'starlight' and 'firelight' here's my haiku. (#HaikuFromTwo)
Flickering firelight
Whispering in the starlight
Magical moonlight
Never Show a T-Rex a Book
Author: Rashmi Sirdeshpande
Illustrator: Diane Ewen
Publisher: Penguin
Published: 2020
A joyous, fun and exuberant celebration of imagination and the possibilities that can open up if you read books.
I would recommend this for:
Just before you head out to the library on a cold, wet, windy day when you have to battle your way there and once you arrive, you'll step through the door together into a magical world of hope, books and dreams. After reading this you'll be rushing to put on your coat and hat!
The Story:
What happens when a little girl teaches her T-Rex to read? The dinosaur wants to read every book she can borrow from the library, causing complete chaos. Will the T-Rex decide to be an artist, a doctor, a professor or perhaps an architect? There are so many wonderful possibilities out there for her. How on earth can you hide her and her mountain of books from your parents? What happens if you then take your dinosaur to school? If she teaches her dinosaur friends to read too, what will happen then? The world of imagination is giant-size!
Illustration
The use of bright, cheery colours enhances the sheer joy and fun of this story. It is so obvious from their expressions the delight the dinosaur and her owner take in reading. I particularly love the T-Rex's bright red glasses and the patterns on the girl's dress. There's so much to study in Diane Ewen's illustrations; they perfectly reflect the busyness of a child's imagination. Each page is worth exploring for the many tiny details that both children and adults will love.
If you enjoy this story, you might also like:
The Book Without a Story by Carolina Rabei
The Snow Dragon
Author: Abi Elphinstone
Illustrator: Fiona Woodcock
Publisher: Simon and Schuster
Year published: 2019
How to describe 'The Snow Dragon'? It's a gift to give to yourself: to someone you love, it is a gift of wonder and magic, a tale of sadness but above all, hope and joy.
I would read this tucked up together under a cosy blanket on a winter's day and the world of sparkling magic would come swirling in carried on the wings of a snow dragon.
Longer than most modern picture books, this is for delving into and sharing: a truly magical story.
I would recommend this for:
As there is a certain element of fairytale darkness, perhaps this would be suitable for children aged four or five and above.
It would certainly be a great book for those heading towards reading chapter books.
The Story:
Have you heard of the 'Miracle Day'? That's the day a child is chosen for adoption and is allowed to leave Griselda Bone's Home for Strays. But for Phoebe that day never seems to come and she is eventually the only child left. Cancelling Christmas to give extra lessons instead, Griselda Bone is not impressed with Phoebe who is a 'Word Mangler of the very worst sort'.
Locked in a kennel overnight, Phoebe is visited by a snow dragon. With his large ears so he can 'listen to all the wonderful things that you have to say,' he encourages Phoebe to continue building her self-belief and confidence.
Spreading the message of sharing, the wonder of the world and learning contentment, Phoebe and the dragon embark on an amazing night-time adventure. The joy of seeing the 'wonderflible' Northern Lights must be one of the best Christmas presents ever. Without giving the game away, I'll just say, there is a happy ending
If you're a dog lover this book will especially appeal with the delightful antics of Herb, the dancing sausage dog but watch out for the game of Chase with the large, grumpy Slobber.
Illustration
Fiona Woodcock has done a wonderful job of conveying Phoebe's embodiment of bright hope and colour against the dark setting of Griselda Bone's world.
Ice-cold blues and greens, clever use of black and white with splashes of colour lead us into a wintery world and onwards to the sparkling, starry snow dragon's story.
Nominated for the 2021 CILIP- Kate Greenaway medal.
If you enjoy this story, you might like:
The Story of Holly and Ivy by Rumor Godden and Barbara Cooney
Good Dog!
By Sean Taylor and David Barrow
Quarto Knows
Frances Lincoln Children's Books
2020
I laughed out loud and found myself giggling at the antics of this loveable rogue.
Exuberant, cheerful and full of fun, all Dog longs for is for his owner, Melvin, to smile and call him 'Good Dog'. Unfortunately Dog's enthusiasm is boundless and always seems to lead him into trouble.
This story is a lovely exploration of the senses and emotions. We can empathise with Dog as he tries to resist 'an extra-delicous smelling-pizza' or feels 'completely full of unhappy feelings'.
Making life choices and taking responsibility for his own actions are big lessons for a small dog but, most importantly, who wouldn't want one of Dog's 'special surprise sniffle-snuggles'?
I loved the illustrations that captured so well Dog's energy and the joy and endless, unconditional love he has for his owner, Melvin.
Whether you own a dog or not, this is a super story and it is the story of an eternal optimist; 'Tomorrow is always another day …'.
The Girl Who Stole the Stars
By Corrina Campbell
Little Door Books
Have you ever looked at the stars in the sky and wanted something so special, so sparkly, so bright, for your very, very own? But is one star enough? If Santa worked his magic and you climbed up and up and up could you choose a star for yourself? One star, which shone so brightly when it was in the sky. What would you do if you realized it needed a friend, not one, not two but many, many more and finally the moon too?
The Girl who Stole the Stars stole my heart as I read her tale through the seasons of the year leading up to the question; how will Santa come back to visit her if there are no stars to guide him?
This story is beautifully illustrated to show the colours of the seasons, the wonderful contrasts between the light of the moon and the stars and the darkness of a world with no visit from Santa.
A story of sparkly magic, sharing and a fascinating look at navigation, Corinna Campbell has written a true winter warmer.
The Last Tree
by Emily Haworth-Booth
Pavilion Books
This is a wonderful story of friendship and the need for us all to take care of our environment.
The last tree is beautifully illustrated and the text flows like a babbling brook carrying you along it's course, down waterfalls and out to the big wide sea of life.
A group of friends live happily in the forest until they decide to begin cutting down the trees to build homes and, ultimately, a huge wall. Then, living in the shadow of the wall, their friendship begins to fall apart. Change only happens when their children discover the last living tree and the joy of playing beside it. They decide to take matters into their own hands and ultimately help the adults realise that by protecting their environment they'll look after their community too.
This book would be wonderful for generating discussion on the themes of taking care of our environment, working together, community and friendship. It also highlights the power children can have and use when they are given the opportunity to do so.
A fantastic resource for exploring this theme at home and for supporting work in the upper stages of primary school.